Ahoy there shipmates!
And, after a week of no gigs due to illness, it was deeply marvellous to be back out again making fools of ourselves in public.
A vastly entertaining Friday was had at the dear ol' Railway Tav on Friday, we met a lovely couple who'd come over from Bath just to see li'l old us, which was rather sweet. I'd tell you their names, but I forgot to ask – I'm generally rubbish with social niceties.
In fact, I recall a while ago, when I was explaining to some of my colleagues at work how "I'm really not a people person".
"No, that's not true", they protested, "We all get on really well with you".
"Oh, but I don't think of you fuckers as people…", I explained….
Saturday dawned fair and bright, and a new adventure for us – over the Severn Bridge to play the Cross in Caldicot.
We managed to get, tantalisingly, within fifty yards of the pub before finding the road closed, with nowhere to pull up. Never mind, Google says there's another way around the back; which indeed there was, and which would have been fine had not that road been closed as well – this time within two hundred yards of the pub. After fifteen minutes driving around trying to find an alternative way in, with a bit of guidance from Ben we find a pedestrian precinct to drive through which finally gets us there.
When we do pull up outside, we find the pub is rammed, and there is no space to set up in. After a bit of gentle persuasion from the staff, and some surly grumbling from musicians, we manage to barge our way in with the kit and shoehorn it in place.
The evening brightens considerably thanks to the surprise appearance of some lovely old friends, including dear long-lost not-quite-daughter Sophie, and I am back in a good mood by start time. The fact that Stuart also presented me with a carrier bag full of beers may also have helped somewhat.
And, it turned out to be a really good evening; I came to the conclusion that they probably don't get much by way of entertainment in Caldicot, and so we were something of a novelty.
The evening was slightly soured when we realised that some blonde girl had stolen one of our tambourines, but we were cheered to hear our new friend Rhys say he was going to "dress up in a chicken costume and hunt her down".
That's right, folks – miscreants beware, there is a new superhero in town – the Chicken Of Justice is coming for you!
And, after a quick Google Image search on the topic, you should be trembling in fear…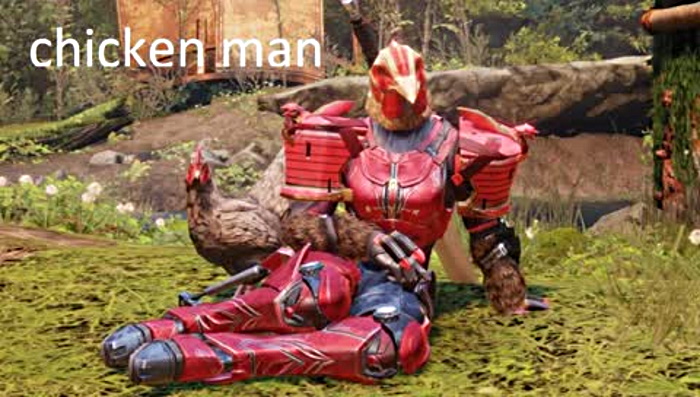 Alas, we have no gigs coming up this weekend; but keep an eye on the local press for news of a woman's body being found in Caldicot, apparently bludgeoned to death with a tambourine. Police are mystified; the only clue is some feathers and traces of seedcorn found at the scene…
Square on
A