Hello chums!
My, that was an extremely bizarre weekend, even by our standards….
Friday night, and I rolled up slightly early to our gig the Air Balloon in Filton; went up to the bar, announced I was with the band and asked where they'd like us to play.
Barman points in a direction, "They're over there, setting up".
I look across. There is indeed a band setting up, but it's not mine. Oh dear, looks like there's been a double-booking. I go over and introduce myself. The guy putting up a PA looks, unsurprisingly, puzzled. "But the band that was booked here got cancelled, that's why we were asked to play".
I return to the bar to make further inquiries.
"That's right", I'm told, by the suddenly worried-looking manageress, "You rang up about a week ago and cancelled, said that there was some problem with your bass player, he was giving up, and so you were all disbanding and cancelling all your bookings. I went round and took all the posters down myself, right after you called. I double-checked the band name as well, to make sure there was no confusion."
I explain that this sounds very unlikely, as (a) we had never phoned the pub to cancel anything, and (b), I'd last seen everyone the previous night at rehearsal, and none of us have any intention of packing it in…
"Come to think of it", says the manageress, "The guy who phoned up didn't sound like you at all".
Well, he wouldn't. He wasn't me.
It becomes apparent that some third party, for reasons unknown, has sabotaged the gig for us.
The others arrive, and I explain the situation. We are mighty vexed. Another quick chat with the band now setting up (alas, I have forgotten their name) – who are the only people who have benefited in any way from this debacle – convinces us this wasn't their doing – they seem to be sound chaps. We wish them a pleasant gig (cheerfully pointing out that should we arrive at our next gig to find them setting up, our suspicions may be aroused), and head off to find a quiet pub from where to contact the venues for our upcoming gigs, just to check that no more have been "cancelled".
Happily it seems this was a one-off – albeit a mighty annoying one – and since we have now agreed with our venues that if they should get any gig cancellation messages, to come back to us and check they're genuine, it shouldn't happen again.
Nonetheless, if we do find out who was responsible for this one, we shall be taking steps to ensure they are extremely sorry.
A close second for "biggest disappointment of the night" comes when, in the pub we have decamped to, we spot a sign advertising the pub's upcoming events…

"Breakfast with Superhorse"…
First thought is that this would make a brilliant album title.
Second thought is – What's all that about, then?
Do you come into the pub for a Full English, and there you find a pantomime horse waiting to keep you company as you eat?
Or do they have a REAL horse clomping about the place, wearing a blue shirt and a cute little red cape?
Or – and, worryingly, this occurs to Emma and myself at exactly the same moment – is this a promotion aimed at the ladies, and "Superhorse" is, in fact, a spectacularly well-endowed gentleman; if you can survive the night with Superhorse, you get to eat breakfast with him*…?
*you can insert your own "get your oats" pun here, if you like…
All of these thoughts have us rolling about crying with laughter.
Sadly, whilst waiting (an improbably long time) at the bar to get served, I spy what appears to be the massively disappointing answer to these questions…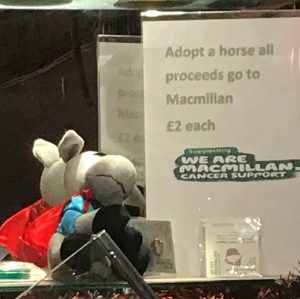 Sunday afternoon, at the Bulldog just down the road, was actually rather better than last time we played there; in any case, it was good to crank things up and blow the cobwebs away after a couple of weeks off; I, at any rate, thoroughly enjoyed myself once I'd found the perfect spot to stand, where I could hear my amp raging away in all its glory. Well, it makes me happy, anyway.
Anyways – coming up next weekend – and most definitely NOT cancelled…
Friday 1st December – Blue Lagoon, Bristol
Always a good night in here, the second set usually livens up a treat. Much looking forward to it.
Saturday 2nd – King Edward VII, Longlevens, Gloucester
It's a pub. In Gloucester. Not played there before. Probability of Superhorse presence currently unknown.
Sunday 3rd 4pm – Queen Vic, Stroud
An unusual Sunday afternoon gig at the Queen Vic – it's their 20th birthday bash, apparently. And for pretty much all that time, Stuart has been playing gigs there in various bands. For about fifteen of them, in this one. Now, that's scary. We really should bring along a birthday cake for them.
And that, my friends – for this week, at least – is that.
Square on
A