Hey gang!
Didja miss us? Didja? Didja?
Well, two whole weekends without any gigs; it's been a long time, been a long time, been a… Oh, you see? That's how much we miss it. Everything turns into a rawk cliché.
Although… I think that kind of thing happens all the time… at least, in my world it does.
Anyway – we're back now, and rather excited to be out gigging again. Even though we're – somewhat bizarrely playing two gigs – both in Filton – this weekend, Emma is more excited by the prospect of going out gigging again than she is by her new favourite breakfast cereal…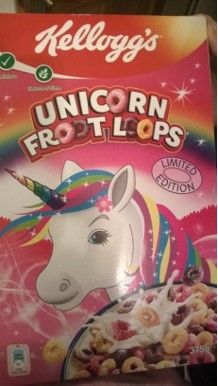 Which she's pretty damned excited about, I can tell you.
Although she is yet more excited than that by the prospect of going to see Brian Blessed, who will shortly be out touring an " Evening with…" show – which she and Ben have vowed to go to, for the sole purpose of seeing if they can get him to say the word "bassoon" at some point in the evening.
The very thought of this makes Emma curl up in hysterics; I really think she actually stopped breathing at one point.
I have promised to buy them a bottle of JD if they can pull off this extraordinary feat.
So – to help them with the Brian Blessed Bassoon Challenge – we're looking for suggestions as to how they can get the great man to stray from his script in their chosen direction.
They are already planning to take along a large banner, bearing the favoured word, but recognise they might have to go along to several nights on the tour before curiosity gets the better of him.But we fear that even this may not be enough. Does anybody have a bassoon they can lend us? This, or any other suggestions, should be emailed back to us at Angel Up Front Towers, bearing the message title
"I can help with the Brian Blessed Bassoon Challenge".
In the meantime – here's this weekend's gigs
Friday 24th – The Air Balloon, Filton
It's just been refurbished, and I believe we are providing the rock angle for their opening festivities. We'll probably have to make sure we wipe our feet when we come in so we don't mess up their nice new carpet.
Sunday 26th – The Bulldog, Filton
Sunday afternoon (it's a 4pm start) in beautiful downtown Filton – there's actually a nice little stage area to set up on in here, and now we've figured out the unusual acoustics of the place, I'm rather looking forward to it.
And, that's about it for this week.
We'll let you know we get on – but in the meantime, please keep those bassoon ideas coming in….
Square on
A