Well hello there, my little inflatables…
And I'm glad to report that we're now finally up to full strength, and what passes for normality around these parts can be resumed.
As Friday, and Emma's debut gig with us, loomed large, it was almost inevitable that she'd contract a nasty coldy flu-y chest-infectiony thing, spending most the week poorly off from work, and turning up at rehearsal on Thursday (yes, we do actually rehearse this stuff sometimes, thank you very much) distinctly croaky, and delivering the vocals for some of the more demanding numbers via the medium of interpretive dance…
Friday, happily, saw her feeling "rather better", and in fact she sang an absolutely belting set to the gathered celebrants at the Tern Inn, up in exotic Yate. So charming was her performance, that one chap in the audience took advantage attempted to seduce her as she sang, by means of messages written on a whiteboard. Look, he even left his phone number there. If you can manage to decipher it, I trust you'll have the discretion and good taste not to call him…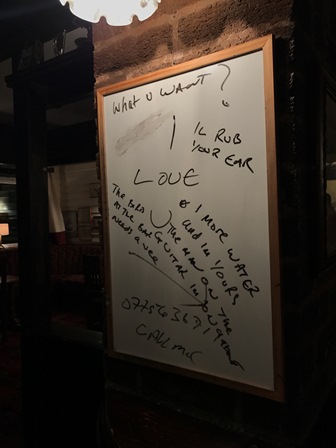 By the end of the night, there was some extremely spirited dancing going from the Eastern European contingent – we were pretty sure somebody was going to break a limb – and reluctantly we finally packed it in after a couple of encores, as we had run out of songs we could remember.
Saturday night, and the Locomotive beckons us, from its lair buried deep in the labyrinthine one-way system that is the centre of Swindon. Completely by chance, we found it first time, hauled all the kit in and set up. Swindon is quiet tonight. Very quiet. Poor Ben has to wait ages between groups of scantily-clad young ladies tottering past.
There's not too many people in the pub, either; although at the half-time break, they all seem to have been enjoying it. The second set sees a few of the pensioners in the crowd trundle off homewards – "It's past our bedtime, you see" – but the evening is saved once again by the East Europeans, a group of whom in the corner are very thoroughly enjoying themselves, and have to be told off by security for dancing on the tables.
So, we're most definitely back under full steam again; coming up next, a proper three-gig weekend. Haven't done one of those in ages – it's all rather exciting…
Friday 16th – VRA Bike rally, Lower Lode Inn, Tewkesbury
Oh, we love playing bike rallies. This one we did a few years ago, there's a nice big stage, indoors, and a lovely bunch to play. There's also, as I recall, some very fine beer available. I wonder if they'll let me take any of it home…?
Saturday 17th – New Crown Inn Summer Festival, Bath
One of our regular gigging venues, having a mad, grand day of music out in the garden. We'll be on at 5:30, assuming everything goes to plan; there'll be a bunch of other bands on before and after us, but ideally not at the same time. After all, we don't want to show them up, do we…?
Saturday 17th – Jolly Cobbler, Kingswood
And rounding it off with a "normal" gig, this one is a slightly early 8:30 start, to keep the grumpy neighbours at bay. Our pal Mike the landlord won't tell us which is the grumpy neighbour who complains about bands, and since we can't afford the petrol to torch the whole street, we'll just have to start – and finish – half an hour early. Usually gigs here are enlivened by the presence of eighty-year old table-dancing air guitarist Mad Eddie, and his extremely tolerant other half.
And then, I think I might just go and lie down somewhere quiet for a bit.
If I can't find a suitable bit, I'll probably give up and go home.
Square on
A