Top o'the morning to ye!
For once, a relatively quiet weekend; no banding, as young Louisa is in sunny Italy gorging herself on pizza and pasta; so just the one outing with young Lily, up at the Clothiers Arms on Friday. Now, poor little Lil has been suffering from nasty coldy fluness this week, and by Friday was absolutely hanging before we even started. But there's no sick days in rock'n'roll, you get beaten for saying you're ill, and you have to be on a stretcher before you're allowed to miss a gig (we learned that approach from Jackson senior, and it didn't do his kids any harm, did it…?).
After a quick false start – we were all ready to go when they asked if we'd wait twenty minutes while Essex had finished trouncing Gloucester at rugby (I bet this kind of thing doesn't happen to Jimmy Page); then, with Lil merrily spraying snot all over the first couple of rows, we got through the first set without mishap.
A quick break, a quick natter with the merry locals, and Lil just managed to make it through the second set, before collapsing into a heap. Within seconds, she was curled up and sleeping peacefully, leaving me and the front row of punters to pack up all the kit and load it into the van (thanks guys!).
Then I spotted that she'd picked the perfect place to crash out…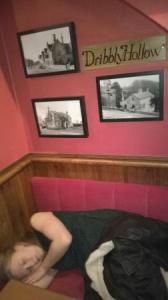 We considered all going to hide in the other bar turning all the lights out, and waiting for her to wake up; but then we realised we might have a v-e-r-y long wait. Besides, as the landlord cheerfully pointed out, "She might be dead, that won't look good on my insurance, you'll have to take her away"; so we reluctantly prodded her awake and carefully led her out to the van.
We're hoping she's better by Friday though, 'cos we're going to take her out again…
Fri 26th – Lily B at the Langley Arms, Emerson's Green
A nice local one, we've played here with the band before, but it's a new one for Lil. Usually when we arrive it's full of people eating their dinner, so Lil should be able to occupy herself scrounging food from strangers while I try to remember how to set up the PA.
Sat 27th – Bristol MCC Rally, Chippenham
In a very rawk'n'roll style, Louisa is jetting in from Italy on Saturday, and should arrive just in time to play the gig. I hope she remembers the band tradition of bringing small souvenirs back for your bandmates if you've been away on holiday. Lou, if you're reading this, I'd like a 1976 Moto Guzzi 850 Le Mans, please. A red one.
Right, thas' your lot for now
Peace, love, and all that hippy nonsense
A