Ahoy there shipmates!
We trust you all managed to have an entertaining weekend, although if course it can't have been easy without the undoubted pleasure of our company…
However, if you have missed us terribly, then never fear – we are back out in action this Friday, so there is an opportunity to catch up with all that is musical and lovely; although you are cautioned to avoid wearing your finest clothes for this one…
Friday 16th – Giant Goram, Lawrence Weston
Actually, when we played here before, on a Sunday afternoon, we had a fine time joshing with the locals on a Sunday afternoon, and were actually promised confectionary on our next visit. I wonder if there's time to get some official band bibs printed off…? Also, we note that the place has gone upmarket – a quick idle-curiosity Google search revealed the news that just a couple of months ago, "Bristol City Council placed the pub on the city's Local List of valued buildings to safeguard the city's cultural and architectural heritage".
As far as I can tell, this article was completely true.
I do hope that they're not going to be too swanky now to talk to us – and in particular that they haven't changed the sign cheerfully posted up in the gents…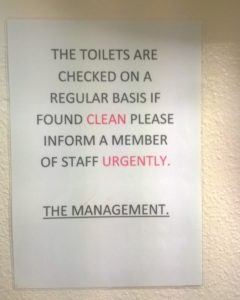 Square on
A